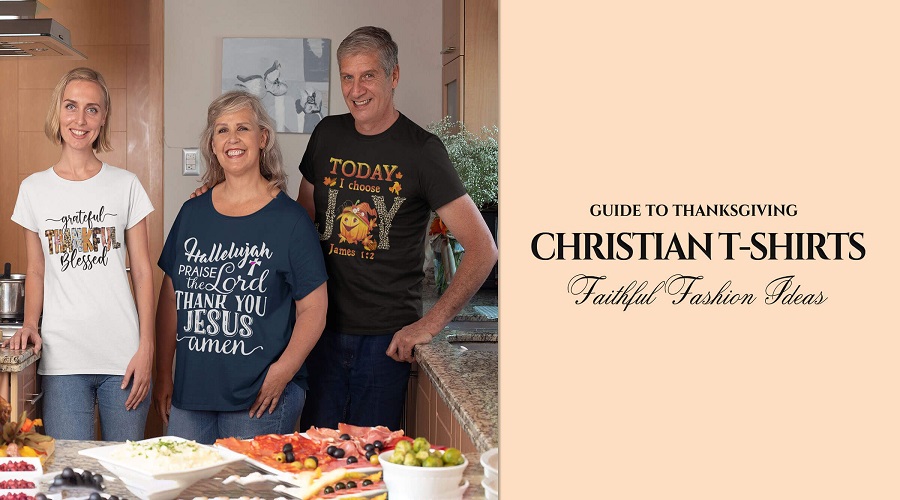 Thanksgiving, a cherished holiday in the Christian faith, serves as a reminder to express gratitude for God's blessings and provisions. While families gather around tables laden with sumptuous feasts, Thanksgiving also presents an opportunity to display faith in a more unique and stylish manner. Enter Christian Thanksgiving T-Shirts – a trend that has been gaining traction in recent years.
Thanksgiving is a time for family, friends, food, and gratitude. For many Christians, it is also a time to celebrate their faith. One way to do this is by wearing a Christian T-shirt on Thanksgiving.
A. Why Wear Christian T-Shirts on Thanksgiving?
Wearing Christian T-Shirts on Thanksgiving is a meaningful way to express gratitude and share God's message. These faith-based shirts start conversations about faith, create unity among loved ones, and align fashion with beliefs. By wearing them, believers set an example, promoting a positive atmosphere of thankfulness during the holiday season and beyond.
B. Top Thanksgiving Christian T-Shirt Ideas
Grateful thankful blessed Thanksgiving t-shirt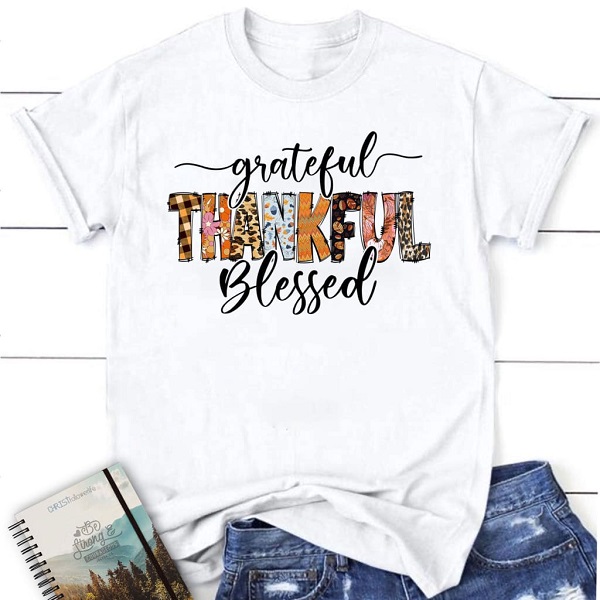 Celebrate the season of gratitude with our "Grateful, Thankful, Blessed" Christian Thanksgiving t-shirt. This heartwarming design embodies the spirit of thankfulness and faith, perfect for the Thanksgiving festivities and beyond. Experience both comfort and style with its soft fit, making it ideal for church events, gatherings, or simply as part of your everyday wardrobe.
This simple yet elegant t-shirt is a great way to show your appreciation for all the good things in your life. It comes in a variety of colors and sizes, so you can find the perfect one for everyone in the family.
Fall for Jesus He never leaves T-shirt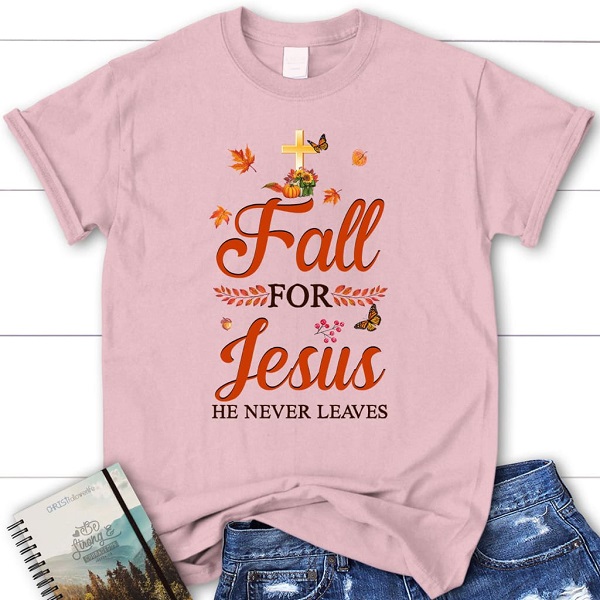 Experience the warmth of faith with our 'Fall for Jesus, He Never Leaves' Christian t-shirt – the perfect Autumn Thanksgiving gift. Embrace the changing leaves and the season of gratitude with this heartening message. This shirt serves as a constant reminder that Jesus' love is steadfast, never leaving your side.
This t-shirt is a reminder of the hope and joy that comes from the resurrection of Jesus Christ
Be Joyful Pray Always Give Thanks T-shirt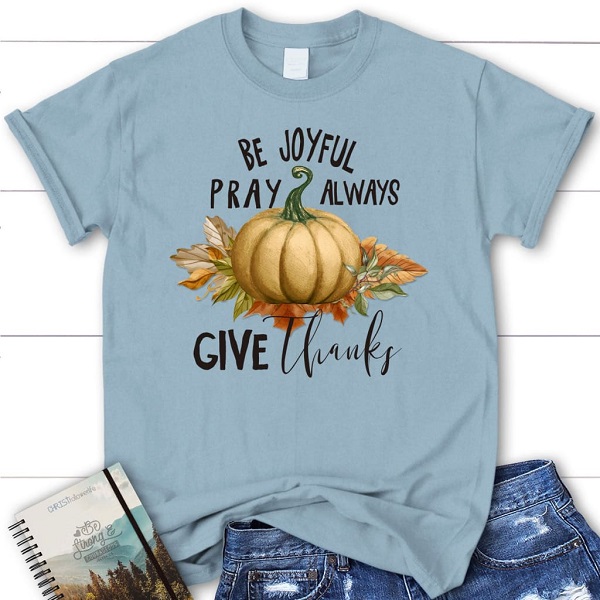 Spread the joy of gratitude with "Be Joyful, Pray Always, Give Thanks" Thanksgiving t-shirt. Embrace the spirit of thankfulness with this uplifting design.
With a comfortable fit and a reminder of the importance of joy, prayer, and gratitude, this t-shirt is perfect for celebrating Thanksgiving and beyond. Wear it during festive gatherings, church events, or any day you want to share the message of thanksgiving.
This Christian Thanksgiving t-shirt is a great way to show your loved ones how much you appreciate them.
Fall Thanksgiving, Love Like Jesus Shirt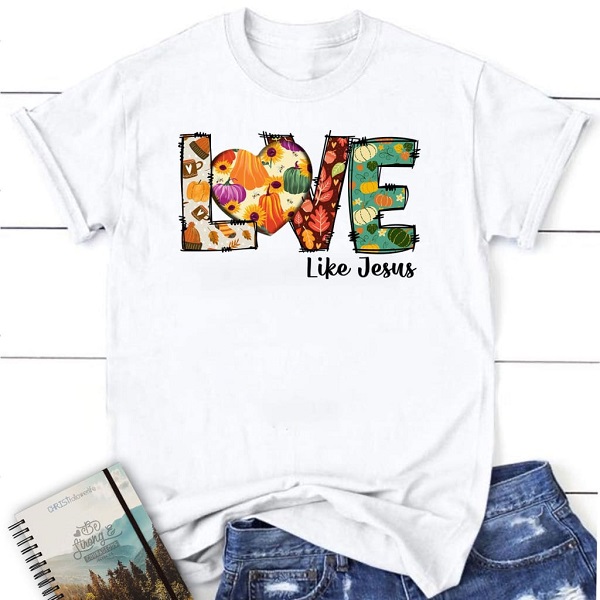 Imagine the profound transformation that would occur if every individual embraced a love like that of Jesus.
Embrace Fall with love and gratitude in "Love Like Jesus" T-Shirt. A heartwarming reminder to spread kindness and compassion, it captures the essence of the season. Celebrate thanksgiving and be a beacon of hope with this unique shirt.
So Very Thankful Butterfly T-shirt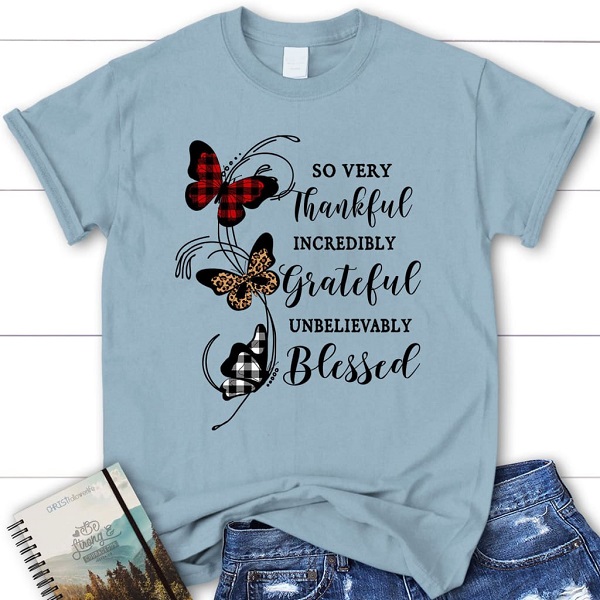 Express your gratitude and faith with "so very thankful incredibly grateful unbelievably blessed" butterfly Christian t-shirt. Like a butterfly emerging from a cocoon, let this shirt symbolize your transformation through thankfulness and spiritual growth.
This t-shirt is a great way to show your appreciation for your loved ones. It features a heart-warming message and a beautiful image.
Read More: How Style With Christian Apparel Hoodies
C. Where to Find Christian Thanksgiving T-Shirts
Finding the perfect Thanksgiving Christian T-Shirts is made easy with various options available both online and in local stores. Online Christian retailers and specialty shops offer an extensive selection of faith-inspired apparel (Eg: Christ Follower Life, Amazon, Christianbook, and Zazzle). Additionally, local churches and Christian events may host pop-up shops with exclusive designs, allowing believers to support their community while embracing faith-driven fashion.
D. Embracing Gratitude Beyond Thanksgiving Day
Embracing gratitude extends beyond Thanksgiving. Cultivate a grateful heart daily, keeping a gratitude journal to cherish moments of thankfulness. Show gratitude through acts of kindness and service to others. Inspire a thankful community through faith-inspired fashion, spreading gratitude with stylish T-Shirts.
Conclusion
Thanksgiving Christian T-Shirts present a beautiful opportunity to combine faith and fashion, allowing individuals to wear their gratitude for God's blessings proudly.
Showcasing your faith on Thanksgiving through a Christian T-Shirt is a wonderful idea to share your beliefs with others. Select a T-Shirt with a message that resonates with you and makes you feel comfortable. The diverse range of Christian Thanksgiving T-Shirts available at Christ Follower Life ensures you'll find the perfect fit.
Here are some style tips to wear your Christian T-Shirt with flair:
Pair with jeans or khakis for a polished and stylish look.
Accessorize with scarves, hats, or jewelry to add personality to your outfit.
Exude confidence while wearing your T-Shirt – it reflects your faith and inner strength.
Regardless of the T-Shirt you choose, make sure it's a source of pride. Thanksgiving is an ideal time to celebrate your faith, and a Christian T-Shirt is a wonderful means to do so. Thank you for reading this post.
About Author (Sheila R. Wright)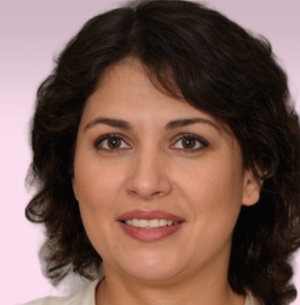 Hi, this is Sheila R. Wright, AstylishFashion's digital fashion editor. I love to write. The blog covers everything from the latest style news to trend and shopping features, red-carpet fashion and designer profiles, and being responsible for styling celebrity and fashion shoots for the site. Get Started To Read …